As 2019 came to an end and 2020 was just beginning, the world saw a drastic de-escalation in the ever-changing trade war between the United States and China. We wrote about the potential impact the trade war could have back in early 2019 with this post ("Impact of the USA-China Trade War on the FIBC Industry"). At that time, it was impossible to know just how far the trade war would escalate and which products the tariffs would ultimately impact the most.
Now, in early 2020, we have a much clearer picture as the war seems to be coming to an end with a very soft boom (truce in trade war). But how did we get here? What was if any the impact of the trade war on the FIBC industry? Will any of its effects be felt in the long run? Let's explore.
Summing Up the War
With the inauguration of Donald Trump in early 2017, big changes were made to foreign policy abroad and it became increasingly clear early on that China's trade practices were in the admin's crosshairs. The Trump Administration outlined numerous issues it had with Chinese trade practices, but among the most cited were:
Currency manipulation
Forced ownership in US companies
Force technology transfer from US to Chinese firms
Illegal trade with North Korea
When the administration and Chinese officials failed to come to an agreement in 2017, things began to escalate starting with the first round of US tariffs on Chinese goods in early 2018 that included products like washing machines and solar panels. Throughout 2018 things continued to escalate with 25% tariffs imposed by the US on Chinese goods like aluminum and a variety of other products. However, China didn't take any of this sitting down and began imposing their own retaliatory tariffs on many agricultural imports from the US – exacting a massive tole on US farmers (source: https://www.cnbc.com/2019/05/14/chinas-new-tariffs-are-hitting-us-farmers-at-every-single-angle.html).
This pattern would largely continue until late 2019 when both sides agreed to suspend any new tariffs or escalatory penalties and agree to trade talks. This ultimately led to a cease-fire in the trade war in December 2019 when the two sides agreed to a "Phase 1" deal in which the nations pledged to end plans for any future escalation. However, at this point, much of the damage had already been done. What had been an administration's early attempt to pressure China to change its ways turned into a 3+ year trade war that created ripples throughout global supply chains. But what long-term impact did this have (if any) on the industry?
The Aftermath
The single largest impact the US-China trade war had on the FIBC industry is related to global supply chains and the sourcing of bags. As we have discussed many times on this blog, the vast majority of bulk bags are sourced overseas, primarily from Asian countries (China, India, etc.). However, the trade war has not shifted the manufacturing away from Asian nations. Then how has it impacted the industry?
The tariffs imposed by the Trump administration were targeted toward the single nation of China raising the cost of sourcing all products (including bulk bags) from that single country – making China significantly less attractive to US distributors. However, because these tariffs were not imposed on all Asian countries, other nations became significantly more price competitive seemingly overnight. This in turn accelerated the movement of manufacturers out of China and into India – a process that was already happening in the FIBC industry long before the trade war started (primarily driven by significant quality improvements by Indian manufacturers). Thus, the vast majority of bags are and will be sourced from overseas for the foreseeable future, China will simply play a much smaller part long-term in the overall manufacturing of bags – significantly reducing global dependence on China as a bag provider.
---
Thanks for reading, check out our New Buyer's Guide!
It's our mission to make your bag buying experience easy, informative, and enjoyable. We also want to share our knowledge with you, so you can make the best purchasing decision for the company you represent. Our Buyer's Guide to Purchasing Bulk Bags is a great starting point for any decision. It contains critical information ranging from types of bags to important safety information about handling and transportation.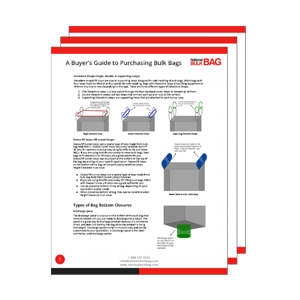 Download the guide by clicking below. By downloading, you'll learn all about:
Types of bags

Coated vs. uncoated

Liners

Bags with baffles

Types of lift loops

5:1 & 6:1 safety

guidelines

Much more!
Click the button below to download our comprehensive buyer's guide.