Globalization has impacted the lives of Americans and American Companies in significant ways. Perhaps one of the most impactful effects of globalization has occurred in product supply chains – and the FIBC industry is no exception. As we have noted several times in the past, the vast majority of bulk bags are now produced overseas – primarily in Asian countries. The benefits of this shift have been great for the industry as a whole, but it hasn't come without drawbacks.
The changes brought by globalization have provided high quality FIBCs to US companies at extremely competitive prices, however, it has also created the need for greater accountability on the part of distributors and their suppliers. Of particular concern when it comes to Asian manufacturers/suppliers are labor laws. How do US distributors make sure their suppliers are adhering to ethical labor practices? What sort of certifications do distributors look for?
Labor Standards and Certifications
There are many different ways that US distributors can ensure their suppliers are following ethical labor standards, but none better than in-person visits. We may sound like a broken record on this topic, but it is so important to find a distributor that has visited their suppliers and done on-site vetting.
However, on-site visits alone are not adequate to completely vet a supplier. Only when combined with the verification of internationally recognized certifications can a distributor be sure a supplier is complying.
Standards & Certifications
One of the primary concerns for distributors (like National Bulk Bag) is that suppliers are following minimum age requirements. Making sure suppliers aren't engaging in child labor is a massive priority and rightfully so. In order to ensure this is the case, here are some of the certifications and standards quality distributors look for:
1) WRAP - Worldwide Responsible Accredited Production
As stated on their website: "The WRAP certification program's objective is to independently monitor and certify compliance with these standards, to ensure that sewn products are being produced under lawful, humane and ethical conditions. Participating facilities voluntarily commit to ensuring that their manufacturing practices will meet these standards, and further commit to passing along, on their part, the expectation that their contractors and suppliers likewise comply with these standards"
2) TfS - Together for Sustainability Initiative
Formed in 2011 by six multinational chemical companies (BASF, Bayer, Evonik Industries, Henkel, Lanxess, and Solvay), the TfS is a global non-profit chemical industry association based is Brussels. Its purpose is to "foster resilience, efficiency, and sustainability of global supply chains in the chemical industry".
3) SMETA - Sedex Members Ethical Trade Audit Report
According to the Sedex website: "Sedex is a global membership organization dedicated to driving improvements in ethical and responsible business practices in global supply chains." Specifically, the SMETA is an ethical audit methodology that provides the best audit techniques. It is designed to help auditors conduct audits that encompass all aspects of responsible business practice. These cover Sedex's four pillars of Labor, Health and Safety, Environment and Business Ethics. Find out more about SMETA by clicking here.'
Other Standards to Consider
For the sake of keeping this blog concise, we won't dive into these standards too much, but we believe they are worth mentioning as they are things we at National Bulk Bag look for:
ISO 9001 – Quality Management
ISO 14001 – Environmental Management
ISO 18001 – Occupational Health and Safety Management
ISO 22000 – Food Safety Management
ISO 27001 – Information Security Management
---
Thanks for reading, check out our New Buyer's Guide!
It's our mission to make your bag buying experience easy, informative, and enjoyable. We also want to share our knowledge with you, so you can make the best purchasing decision for the company you represent. Our Buyer's Guide to Purchasing Bulk Bags is a great starting point for any decision. It contains critical information ranging from types of bags to important safety information about handling and transportation.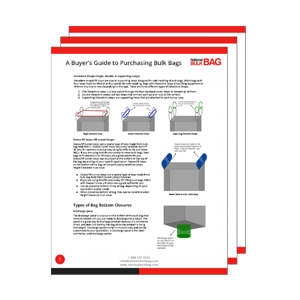 Download the guide by clicking below. By downloading, you'll learn all about:
Types of bags

Coated vs. uncoated

Liners

Bags with baffles

Types of lift loops

5:1 & 6:1 safety

guidelines

Much more!
Click the button below to download our comprehensive buyer's guide.