The COVID-19 pandemic hasn't just disrupted your daily routine and kept millions home from work – it has also profoundly impacted global supply chains. In some instances, supply chains around the world have been ground to a halt, creating a scarcity of common products both in the household and within many industries. However, recent issues with scarcity have equally as much to do with demand as they do with more limited supply.
The global economy is surging back as we move into Q2 2021, and record amounts of demand have put additional strain on those weakened supply chains – with devastating results in some cases. But how is this impacting the FIBC industry? Let's explore.
Global Supply Chains
As a result of significantly reduced demand in the heart of the pandemic, global supply chains began to adjust to this "new normal" and decreased their output. Ship's cargo volume on international trade plummeted, and the shockwaves were felt throughout the industry. As the global economy began to pick up, these chains were caught flat footed. To make things worse, a ship shut down the 2nd most trafficked canal in the world for six days resulting in massive trade disruption (https://www.bbc.com/news/business-56559073).
Demand for goods is now surging, and supply chains are scrambling to catch up. This has created massive demand for raw materials and no supply chains to satisfy the demand. The result has been product scarcity never before seen in the FIBC industry.
Issues with Plastics and their Impact on the FIBC Industry
Compounding things particularly for the bulk bag industry is the raw materials demand in the plastics industry. Polyethylene and polypropylene are two main ingredients in many FIBCs and their liners – and for that matter, most plastics produced and consumed worldwide. They're also used in manufacturing most electronics – another industry that has seen an explosion in demand both during and post-pandemic. To put a cherry on top, a massive ice storm in the American South during February 2021 has shut down 80% of the US resin production.
As a result, both the woven polypropylene, polyethylene, and the resins that are involved in the manufacturing process of bulk bags are extremely scarce making production of the bags extremely difficult to impossible in some instances.
Impact on Availability of Bulk Bags and Prices
As you've probably been able to put together, a literal "perfect storm" in some instances has created global conditions ripe for material scarcity and therefore product scarcity. Naturally, with those conditions (high demand, low supply) comes prices increases and the FIBC industry is no exception. FIBC prices and agricultural bag prices have seen their largest price increases in years and these costs are being passed onto consumers. However, beyond simple price increases has also come supply shortages that currently have a significant impact on lead times (check out this article on extended lead times to learn more). But what can you do?
Talk to Your Distributor Now!
Given the market conditions, lead times, and supply, it is more important than ever that you reach out to your FIBC distributor as soon as possible to put in your orders for the year (especially before harvest season when demand for FIBCs spikes and supply will see the biggest shortages). If you can, ask your distributor about a generic in-stock solution if you're currently having issues stocking a custom bag. If you're able, buy in greater volume to drive your per bag price down as well as your order frequency.
---
Thanks for reading, check out our New Buyer's Guide!
It's our mission to make your bag buying experience easy, informative, and enjoyable. We also want to share our knowledge with you, so you can make the best purchasing decision for the company you represent. Our Buyer's Guide to Purchasing Bulk Bags is a great starting point for any decision. It contains critical information ranging from types of bags to important safety information about handling and transportation.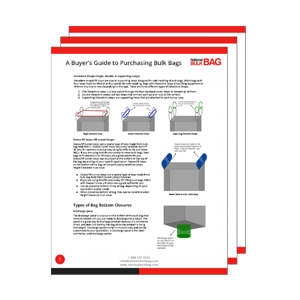 Download the guide by clicking below. By downloading, you'll learn all about:
Types of bags

Coated vs. uncoated

Liners

Bags with baffles

Types of lift loops

5:1 & 6:1 safety

guidelines

Much more!
Click the button below to download our comprehensive buyer's guide.