Product innovations within the FIBC industry are occurring on a large scale outside of the United States. Many overseas suppliers maintain and run facilities that meet international standards and are consistently looking for new ways to innovate and create new products for the industry.
One such recent innovation, Garden Waste Bulk Bags, fills a much-needed niche for many distributors and shipping companies. Let's explore the benefits of Garden Waste bags, and the factors you should consider when sourcing them for your own operations.
Garden Waste FIBCs
Specifically designed with garden waste and bio-degradable waste use cases in mind, Garden Waste FIBCs are one of the latest additions to the industry. These innovative products are ideal for handling and distribution of a number of materials, including compost, soil and construction debris.
Garden Waste bags offer several interesting features, including:
Integrated vents: The body of Garden Waste bulk bags included strategically placed vents to allow organic materials to dry over time. This is especially useful for storing or handling materials that must be drained of moisture content before use, as well as materials that may emit odors when not vented properly.
Internal partitions: Garden Waste bags are built with internal partitions. These partitions enable end users to store and transport multiple types of organic material or waste in a single bag, without cross contamination.
Easy open top: Garden Waste bags are available with an optional top flap Velcro closure. The Velcro closure system makes it easy to close and open the bag whenever access to the materials is needed.
Weighted base: To help keep the bag upright during filling and discharge, Garden Waste FIBCs feature a weighted base. This is an especially valuable feature for outdoor applications when high winds and unstable loading surfaces are a factor.
Custom print options: Many Garden Waste bulk bag suppliers offer custom printing services. This enables end users to add a touch of branding to their operations.
All told, Garden Waste bags offer the features and capability needed to confidently and securely transport organic waste, a historically challenging material type.
Choosing the Right Vendor is Key to Maintaining Your Cutting Edge
The features of the Garden Waste bag make it an ideal solution for a niche challenge, making it one of the many recent innovations coming from overseas. Certainly, many of the most recent innovations within the industry have occurred overseas, including the Garden Waste bag, Over-sized Spout Bottom and more.
Taking advantage of product innovations like the Garden Waste bags can be difficult without the right vendor. You need a vendor with reliable relationships with the overseas suppliers producing and marketing these innovative products. You also need a vendor who can source these innovations quickly and cost effectively, while being willing and able to ensure the quality of the products coming from their overseas suppliers.
To learn more about the importance of overseas suppliers, read our recent article "The 2 Types of Overseas Suppliers We See" by clicking here. For more information on things to consider when selecting a U.S. vendor for your bulk bag needs, read our article "5 Things to Look For When Choosing a FIBC Supplier" by clicking here.
If you are interested in sourcing Garden Waste bulk bags or any other innovation for your business, National Bulk Bag can help.
---
Thanks for reading!
It's our mission to make your bag buying experience easy, informative, and enjoyable. We also want to share our knowledge with you, so you can make the best purchasing decision for the company you represent. Our Buyer's Guide to Purchasing Bulk Bags includes critical information ranging from types of bags to important safety information about handling and transportation.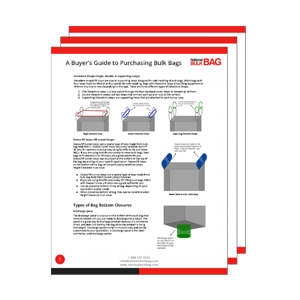 Download the guide by clicking below. By downloading, you'll learn all about:
Types of bags

Coated vs. uncoated

Liners

Bags with baffles

Types of lift loops

5:1 & 6:1 safety

guidelines

Much more!
Click the button below to download our comprehensive buyer's guide.