As a distributor of FIBCs, our overseas manufacturing partners greatly impact the product we sell. A great amount of the value we add as a distributor comes from the relationships we have with our manufacturers and our ability to properly vet them and the products they ship. These manufacturers not only make the bags themselves; they conduct QA (quality assurance) and product testing on site before the bags are shipped – an extremely important part of the procurement process (for a deeper look into what quality distributors do to vet their suppliers, check out this blog).
The bottom line is picking quality suppliers is extremely important to delivering quality FIBCs at affordable prices, but not all suppliers are created equal. We've noticed two different approaches taken by suppliers we've vetted. Let's take a deep dive into the key differences between the two.
The Speedsters
It goes without saying, but not all suppliers we vet overseas come out with 5-star ratings. In fact, it's typically a hit or miss process. The most common "misses" we see are what we've come to call the "speedsters". The goal of these suppliers is to hit the market with bag supply as soon as possible. It becomes obvious to us pretty quickly during our vetting process that things have been rushed. For example, these operations are often missing the most basic of certifications and inspection standards that we look for (for more information on these standards, check out this blog). In their rush to get to market, these suppliers overlooked some of the most crucial aspects of quality manufacturing and are often scrambling to get their operations up to code after production has already begun.
In the end (and perhaps most importantly) this rush to market shows in the quality of the bag they produce and their general knowledge of the product and bulk bag industry. They often can't answer the most basic questions regarding the capabilities of their facilities and the different construction options that are standard in the industry and their product quality is poor.
The "Do-it-right" Operations
The approach we see from the "do-it-right" operations could not be more different from the suppliers referenced above. These suppliers focus on compliance early (and often before) as they enter the market. They make sure they have all the certifications and inspection standards quality US distributors look for. There is also a focus on industry knowledge. These suppliers know everything there is to know about bulk bag construction, types of fabrics and materials, food grade and specialty bags, etc. – and it shows during the vetting process.
However, like most solid business relationships, these suppliers focus on building trust with their US distributors. They look to build partnerships that encourage accountability and responsive support should the need arise. This makes them significantly more responsive and much easier to work with. These are the suppliers we seek out during our trips overseas. These suppliers ensure that our customers are getting the best product at the best price – something we pride ourselves in delivering at National Bulk Bag.
Finding the Right FIBC Supplier is Key
As a US distributor of flexible intermediate bulk containers, finding the "do-it-right" operations to work with is key to supplying quality bulk bags at affordable prices. As we've stated in the past, it all starts with quality relationships and proper vetting of suppliers. If your distributor isn't properly vetting their suppliers and avoiding the "speedsters", how do you know you're getting a quality product?
For more information on how we vet our suppliers, check out these past posts:
---
Thanks for reading, check out our New Buyer's Guide!
It's our mission to make your bag buying experience easy, informative, and enjoyable. We also want to share our knowledge with you, so you can make the best purchasing decision for the company you represent. Our Buyer's Guide to Purchasing Bulk Bags is a great starting point for any decision. It contains critical information ranging from types of bags to important safety information about handling and transportation.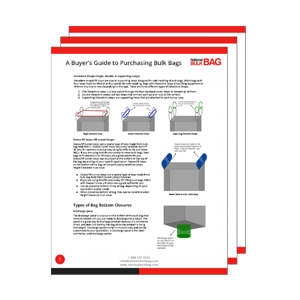 Download the guide by clicking below. By downloading, you'll learn all about:
Types of bags

Coated vs. uncoated

Liners

Bags with baffles

Types of lift loops

5:1 & 6:1 safety

guidelines

Much more!
Click the button below to download our comprehensive buyer's guide.