We talk a lot about food grade FIBCs on this blog. At National Bulk Bag, we believe (especially in the food grade industry) it's extremely important to build an educational database for our customers and potential customers. The food industry is a heavily regulated industry where mistakes can be extremely costly. Contamination, regulatory violations, and improper food handling are unacceptable and can be downright dangerous.
This means it is more important than ever that we keep up with the new trends, regulations, standards, and certifications impacting the industry. One of the most impactful organizations in the food industry is GFSI or the Global Food Safety Initiative. GFSI is a private organization that aims to bring together key actors in the food industry to drive continuous improvement in food safety management systems (https://www.mygfsi.com/about-us/about-gfsi/what-is-gfsi.html). One of GFSI's most important functions is recognizing certain food certification schemes and standards. These "GFSI recognized standards" form fundamental standards for food safety.
GFSI is extremely important to the manufacture of food grade bulk bags. However, not all GFSI recognized standards impact FIBCs. In this article, we'll examine the 5 GFSI recognized standards that have a significant impact on the FIBC industry.
The 5 GFSI Recognized Standards
Always Vet Your Distributor
If you've purchased food grade bags in the past or are planning on doing so in the future the best thing you can do is vet your distributor. Asking questions is one of your most powerful tools in making sure you're getting food grade FIBCs that have been manufactured in food grade certified facilities. We talk about it a lot on our blog but we believe it's a point that needs to be continually reinforced.
---
Thanks for Reading!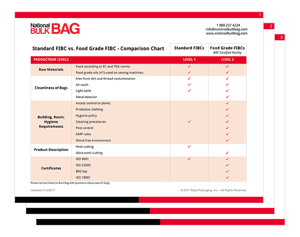 In today's competitive food marketplace, IFS and other GFSI recognized accreditations are increasingly important and you need the right packing to ensure compliance.
With over 20 years of food industry experience, National Bulk Bag has the expertise to help you select the right food grade certified bag for your product.
Click the button below to download our Food Grade Bulk Bag Buyer's Guide. By downloading this guide, you will get access to our food grade comparison chart, things you should look for in a food grade supplier, and everything else you need to know about purchasing food grade bags.