The COVID-19 pandemic has had far reaching impact on many industries, with the bulk bag industry being no exception. In past blog posts, we discussed some of the ways the pandemic has impacted our industry, including disruptions to the supply chain, delayed production and shipment times, and more. Another impact from COVID that often goes overlooked is the shift in purchasing trends across the bulk bag and packaging industries.
As of late, we've seen a major change in purchases of one of the most popular products in our industry – agricultural cartons. As American companies continue to buy less carton, it's important to understand the reasons behind the shift and any potential impact the change may have throughout the industry. Let's explore the reasons why American companies are buying less ag carton in the wake of the COVID pandemic.
Consumer Buying Trends Set the Tone
As with nearly every aspect of the supply chain, consumer buying trends directly impact the purchase of packaging materials. It's well known that the pandemic has significantly altered consumer buying trends, as lockdowns and social distancing have made the average American rethink the purchases they make on a daily basis.
Take restaurants for example. During the height of COVID, most restaurants were forced to close or significantly scale back their operations. This led to a massive decrease in takeout and dine-in purchases by consumers. Since restaurants and venues are one of the largest users of ag cartons, the decrease in business led to a proportionate decrease in carton consumption. As restaurants and venues used less carton, the purchase of the materials dropped as well.
It will be interesting to see whether the return to regular business operations for restaurants and venues will result in an up-tick of ag carton purchases, but for the time being, the trend is likely to continue as those establishments use cartons already on hand.
The Rising Popularity of Poly Bags
The pandemic has led many American companies to shift away from ag carton purchases to other types of packaging – most notably poly bags. Grocery stores, one of the largest consumers of poly bags, saw an explosion in business as consumers were forced to stay in and make the majority of their meals during and after lockdown. Additionally, many of those same consumers bought their groceries and other household necessities in bulk, which consumes even more poly.
Government-sponsored food box programs also consumed a large amount of poly, however with the sunset of these programs nearing, their impact on the packaging supply chain will end.
As more and more dining venues return to full operation, the grocery industry will likely see a decrease in business, with the consumption of poly bags also decreasing. This will mean another shift in purchasing trends, likely back to ag cartons and other recently stagnant materials.
Know the Impact, Plan for the Future
In a recent blog post, 2021: The Year of Extended Bulk Bag Lead Times, we discussed the various ways the pandemic has impacted the bulk bag industry. The changing purchasing trends away from ag cartons to other materials have created additional and often overlooked impact on an industry already facing supply shortages and long lead-times.
Supplies are already strained across the industry and the shift to these specific products, specifically poly bags, has led to shortages and longer led times for many vendors to deliver on orders. The shift away from cartons has also led many vendors to cut back on their on-hand stock of supply, which can lead to difficulties in sourcing significant amounts of ag carton.
It is important to consider your future carton, poly bag and bulk bag requirements, and to place advance orders for the needed materials. Only by proactively considering your needs and placing these advanced orders can you minimize the longer lead times. This proactive approach is especially critical for businesses with seasonal harvests to consider – without taking action now, you may be left without the supplies needed to support your harvest.
Talk to your Distributor to Learn More
To better understand the current state of our industry and the ever-changing supply issues it faces, we strongly recommend talking to your distributor. Our experts are always here to offer their insight and guidance on the current state of the industry and the steps you can take to ensure smooth operation and streamlined access to packaging materials.
---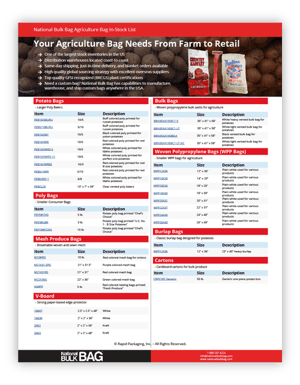 Your Agriculture Bag Needs From Farm to Retail
We stock one of the largest inventories of agricultural produce bags in the United States. Whether you are packing potatoes, oranges, seed, onions, , firewood or any other produce, we stock or can manufacture a bag to meet your requirements.
We are the produce bag experts and are ready to provide you with:
One of the largest stock inventories in the U.S.

Same-day shipping, and just-in-time delivery.

Custom bag solutions.

Manufacturing, warehouse solutions, and distribution located coast to coast.
To gain access to our comprehensive Agricultural Produce Bags In-Stock List click the button below!