The pandemic's impact on supply chain has been covered at great length – COVID-19 has significantly impacted the availability of goods and materials across the globe. Consumer goods aren't the only thing in short supply, though; many employers are also struggling to find quality workers to fill critical roles. The agriculture industry is in the midst of an historic workforce shortage as laborers are difficult to come by, with many produce growers facing serious labor challenges come harvest season.
The shortage in qualified – or interested – laborers has led many agricultural firms to explore alternative solutions, including automation of key tasks in the field and at processing plants. The rising popularity in automation has the potential to dramatically change the agriculture industry. The shift will also be felt across the bulk bag industry as agricultural firms begin to source bags to support their automation efforts. Let's explore the issues leading to the labor shortage, the automation strategies being explored in the agriculture industry, and the ways they may change the face of these key industries.
Planting the Seeds for Change - the Ongoing Labor Shortage
While the pandemic has increased hiring challenges for farmers and agricultural companies, COVID-19 is just one part of a more troublesome trend. Hiring has been an issue for many years across the agricultural industry as employers struggle to find qualified candidates interested in their open roles.
Employers face several challenges when hiring new skilled and manual laborers, including:
Rising wage requirements

The increasing availability of jobs outside the ag industry is luring workers away

Immigration policies have offered increased opportunity for documented immigrants, further reducing the traditional ag talent pool

Declining interest in agricultural careers
The ongoing challenge and expense of attracting and retaining skilled workers has led many agricultural firms to explore other solutions.
The Growth in Automation Solutions
Lacking the skilled workforce needed to effectively plant, maintain, harvest and process crops, many ag firms and farmers have begun to explore and embrace automation solutions to make up for their missing talent.
Automation solutions quickly gaining popularity across the ag industry include:
Robot planters, pickers, and harvesters

Drones for surveying crop growth and status

Autonomous trackers

Seeding and weeding robots

Automated packaging machines
These solutions have already yielded significant benefits for many organizations within the industry. Reduced overhead, improved efficiency and increased safety are all real – and valuable – benefits of the shift. Consumers have also benefitted as produce can reach stores faster, resulting in increased access to fresher produce for the average customer. The reduced impact on the environment and more sustainable practices resulting from the shift may be the most overlooked, but invaluable benefit.
The shift towards automation will be felt outside of the agricultural industry as well. These newly automated processes often require different types of materials to support them, including bulk bags for automated packaging and transport of produce. As more businesses embrace automation, the crunch to source some bulk bags may continue.
Of course, there are some drawbacks to automation within the agricultural industry. These solutions are often very expensive and do require some technological knowledge or background to operate. These solutions also aren't available globally, meaning that some businesses will have to wait to embrace automation.
We Can Help You Address Your Changing Bulk Bag Needs
If your farm or agricultural business has begun to implement automation solutions or are considering an automation strategy, you likely need to plan for your future bulk bag needs. Our experts are here to provide the insight and guidance you need to examine the potential impact on your bulk bag requirements and develop a plan for sourcing any and all types of bags you may require – both now and well into the future.
Contact us to talk to an expert about your bulk bag needs or download our catalog to view our full selection of bags.
---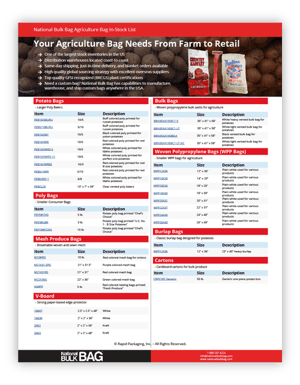 Your Agriculture Bag Needs From Farm to Retail
We stock one of the largest inventories of agricultural produce bags in the United States. Whether you are packing potatoes, oranges, seed, onions, , firewood or any other produce, we stock or can manufacture a bag to meet your requirements.
We are the produce bag experts and are ready to provide you with:
One of the largest stock inventories in the U.S.

Same-day shipping, and just-in-time delivery.

Custom bag solutions.

Manufacturing, warehouse solutions, and distribution located coast to coast.
To gain access to our comprehensive Agricultural Produce Bags In-Stock List click the button below!