Each year in March, the United States celebrates National Ag Day. The holiday is organized by the Agriculture Council of America (ACA), which is a nonprofit organization composed of leaders in the agricultural, food and fiber community. ACA dedicates its efforts to increasing the public's awareness of agriculture's role in modern society.
What is National Ag Day and why is it important to the agricultural industry? Let's explore.
What is National Ag Day?
National Ag Day is a celebration of all things related to the agricultural industry, including farming, livestock, dairy and more. The celebration involves a wide range of events each year, all based on the annual theme. For example, the theme for 2021's National Ag Day was "Food Brings Everyone to the Table."
Events range from webinars and classes to volunteer opportunities and cooking contests. Unfortunately, due to COVID-19, the 2021 National Ag Day was adapted to a virtual event comprised of webinars, student activities, political remarks and written and video essays. The virtual event was supported by a number of creative remote events, including themed family meals and cook offs.
At its most basic form. National Ag Day is an organized effort to spread awareness and support for the critical industry that has been the backbone of America from day one.
Why is National Ag Day Important?
National Ag Day is an important event that spreads awareness and insight into the agricultural industry.
Each individual event held during the celebration is intended to inform and educate the general public about the ag industry and its vital – and often overlooked – role in our daily lives. This education can help the public better understand the logistics and work that goes into providing food and fiber products.
According to its website, the ACA believes that every American should:
Understand how food and fiber products are produced.
Appreciate the role agriculture plays in providing safe, abundant and affordable products.
Value the essential role of agriculture in maintaining a strong economy.
Acknowledge and consider career opportunities in the agriculture, food and fiber industry.
National Ag Day provides this vital education and offers an opportunity to thank the hard-working men and women who keep the agricultural industry running.
Prepare for National Agriculture Day 2022
March 22, 2022 has been announced as the next National Ag Day. While the event is still months away, there are things you can do to get involved. If you are interested in learning more or getting connected with an ag partner, contact us today.
---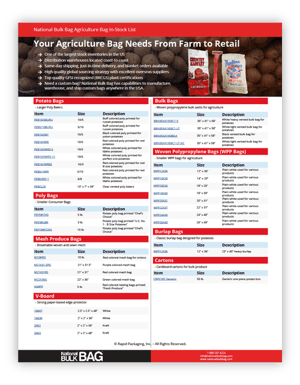 Your Agriculture Bag Needs From Farm to Retail
We stock one of the largest inventories of agricultural produce bags in the United States. Whether you are packing potatoes, oranges, seed, onions, , firewood or any other produce, we stock or can manufacture a bag to meet your requirements.
We are the produce bag experts and are ready to provide you with:
One of the largest stock inventories in the U.S.

Same-day shipping, and just-in-time delivery.

Custom bag solutions.

Manufacturing, warehouse solutions, and distribution located coast to coast.
To gain access to our comprehensive Agricultural Produce Bags In-Stock List click the button below!