We at National Bulk Bag take a lot of pride in our ability to be a spot-need filler of FIBCs. However, as the industry has transformed, so have we – and part of that process has been becoming more of a solutions provider in the industry as opposed to just a spot-need filler. Dealing with businesses looking for larger and more complex solutions has also drastically changed the product offerings we deliver to our customers as a distributor.
Specifically, the need for FIBCs with custom aesthetics has become more common. Whether it's a simple request for a bag with a custom color, or special prints and graphics on the bag, these are increasingly important to many users of bulk bags. Let's examine some of the custom aesthetic options available from quality distributors.
Custom Colors
One such request we've seen a lot recently is bags with custom colors. Often times in facilities that use FIBCs, colors are used throughout the facility to convey certain messages using this simple visual cue. These can be anything from safety messages, hazard warnings, etc. In the case of FIBCs, it's often to convey the contents of the bag.
This naturally makes custom color bags a very good fit for these facilities. Having color coded bags can make a facility more efficient, improve safety through easy identification, and help prevent serious accidents by avoiding any confusion regarding the bag's contents. No matter what color system your facility uses, a quality distributor can work with its suppliers to get you a custom specified color making these bags easier to slide right into your line without hassle.
Custom Printed Labels
Easily identifying a bag and its contents in certain facilities can be paramount to safe operation. Beyond simple color coding, custom labels and custom prints on the bags are a fantastic option. Anything from custom printed color logos, warnings and/or hazard labels, stripes or other patterns (including color patterns) are all great options to differentiate bags in your facility.
These labels can be especially useful if you're using multiple types of FIBCs in your facility and need to differentiate between them. They are also particularly useful if you're using bulk bags with chemicals and/or hazardous materials. Safety should always be a top priority and being able to quickly identify the contents of a bag in any facility where dangerous materials are being handled is crucial.
Distributors and Sourcing
We've talked about this before on this blog, but it bears repeating – not all distributors are created equal. But why talk about sourcing in a post about custom bulk bag aesthetics? The reason to mention sourcing is because not all distributors have the capabilities to provide these types of custom bags – and that's important to note.
Sourcing custom bags with custom aesthetic options requires several things from a distributor. First, it requires relationships with overseas suppliers that have the capability to manufacture custom bags. This is something that not all US distributors have access to.
Second, it requires close relationships to ensure good communication throughout the process – something that is essential to maintaining quality and accuracy during the custom bag manufacturing process.
Lastly, it requires a good overseas supply chain to shorten lead times as much as possible. There is no way around it, custom bags have long lead times. Most of the time, this can be mitigated by temporarily using an in-stock bag from your distributor until the custom bags arrive. However, in the case of custom aesthetics, a suitable in-stock replacement often doesn't exist. This makes long lead times more of an issue which brings us back to something we talk about quite a bit – make sure you're working with a quality distributor.
Vet your distributor. Make sure they have good relationships with their overseas suppliers. You'll have a more pleasant purchasing experience with significantly better lead times.
---
Thanks for reading!
It's our mission to make your bag buying experience easy, informative, and enjoyable. We also want to share our knowledge with you, so you can make the best purchasing decision for the company you represent. Our Buyer's Guide to Purchasing Bulk Bags includes critical information ranging from types of bags to important safety information about handling and transportation.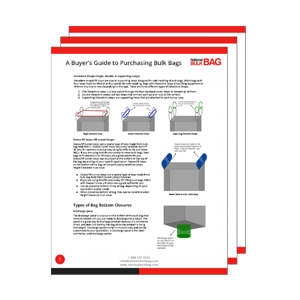 Download the guide by clicking below. By downloading, you'll learn all about:
Types of bags

Coated vs. uncoated

Liners

Bags with baffles

Types of lift loops

5:1 & 6:1 safety

guidelines

Much more!
Click the button below to download our comprehensive buyer's guide.