We get a ton of questions when speaking to current and potential customers at National Bulk Bag. One of the most common questions is about what a "standard FIBC" is. When it comes to the bulk bag industry, beyond FIBCA, there is no central bag authority that defines standards. However, that doesn't mean that there aren't commonly used construction types and use cases. What is a standard FIBC? Does the industry have defined standards?
The "Trick Question"
Industry standards are often not very well defined and when it comes to the industry that is certainly the case. That means its kind of a trick question to ask what a standard bag is. Instead of trying to define a standard bag, let's examine some of the more commonly used types. These are bags you can find at quality distributors in-stock and ready to ship in high quantities and can be used in a large variety of industry applications and uses.
Common FIBC Construction Types
Common Top and Bottom Construction
The most common top and bottom constructions we see are duffle top (for easy filling) and spout bottom (for controlled discharge). This is a great combination as it works with most operations and equipment and allows for easy and controlled discharge of product from the bag.
It should also be noted that spout top, spout bottom construction is a common configuration and very useful when using filling equipment.
Common Construction Types
Construction type refers to the way the various woven polypropylene panels are created and sewn together. For more information on bag construction, check out this post on the subject. On a typical bag, the two most common types of construction we see are circular and U-panel construction. For baffled bags, 4-panel is the most common (for more information on baffled bags, check out this post).
Common Bag Sizes
Although bulk bags are offered in a vast variety of sizes, we see about 3 or 4 the most. Typically, the 35x35x35, 35x35x40, 35x35x50, and sometimes the 37x37x63 are the most common sizes. This is primarily due to ability of those sizes to easily fit into a variety of operations and facilities regardless of product and/or application. Those sizes fit easily onto pallets and thus are easier to move with forklifts, an extremely common equipment choice for moving pallets.
More Information on Bulk Bag Construction
For more information on the types of bag construction available, be sure to check out our FIBC construction page.
---
Thanks for reading!
It's our mission to make your bag buying experience easy, informative, and enjoyable. We also want to share our knowledge with you, so you can make the best purchasing decision for the company you represent. Our Buyer's Guide to Purchasing Bulk Bags includes critical information ranging from types of bags to important safety information about handling and transportation.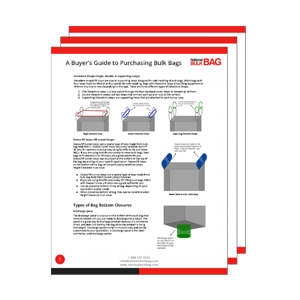 Download the guide by clicking below. By downloading, you'll learn all about:
Types of bags

Coated vs. uncoated

Liners

Bags with baffles

Types of lift loops

5:1 & 6:1 safety

guidelines

Much more!
Click the button below to download our comprehensive buyer's guide.