If you've been following our blog recently, you know we've been discussing the growing business of industrial hemp and cannabis and how bulk bags are a great fit for the various products and applications within. However, we haven't really dived into what types of FIBCs buyers in those industries should be looking to purchase. There are so many types of bag construction and different ways to customize the bags it can be downright confusing when first researching. In our second installment in our industrial hemp and cannabis series, we discuss what bag features to look for.
The single most important decision you're going to make when starting your purchasing journey is standard vs food grade as this will most greatly impact the price per bag you pay. Because of this, we've chosen to focus the majority of our conversation around this choice.
Start With a Standard Bag (if you can…)
When starting your research always start with a standard bag. That is, if you can (it really depends on your product and/or application). The primary reason for this is the money savings standard bags will provide versus more specialized bags. Generally speaking, the more specialized a bag is, the more it's going to cost. Now this is really dependent on your product and application because certain products like consumables require specialized bags (food grade). Standard bags would be a great fit for the handling of raw and unprocessed materials. For the industrial hemp and cannabis industries, this can include plant clippings, soil, unprocessed flowers, etc.
Use Food Grade When Handling Consumables
If you're going to be using FIBCs to store and transport consumables, then you're going to need a food grade bag. Food grade bags will ensure that your product remains uncontaminated when storing and transporting – something that is crucial to the safety of products that will eventually be consumed in some way or another.
Food grade bags, like conventional bags, are constructed with woven polypropylene. During this weaving process a resin is applied to hold the woven strands together giving FIBCs their distinctive tough but flexible nature. In food grade bags, a special type of resin (100% virgin resin) is used instead ensuring that no contaminated materials make it into the bag's weaves. These bags are manufactured in specialized facilities that are certified by major food industry watch dogs like BRC, IFS, and SQF. For more information on food grade bulk bags, check out our web page by clicking here.
Construction Types to Look For
The question "what construction type do I need" is really best answered by examining your specific product and application. I don't think it would be very helpful to start discussing certain construction types without context, so if you're looking for more information about bag construction check out our construction page by clicking here.
---

Our most popular bag for the industrial hemp and/or cannabis industries is our 37x37x63 duffle top, spout bottom flexible intermediate bulk container.
Our full product description and spec sheets for this bag can be found by clicking here.
---
Everything You Need to Know about Using FIBCs with Hemp.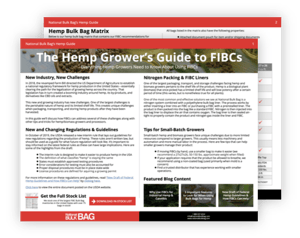 The booming hemp industry is creating unique challenges for growers and processors alike. With the lack of reliable education on the internet, the hemp industry is commonly asking questions like how do I properly store my hemp and biomass? How can I extend my product's shelf-life? How can I reduce the risk of mold and contamination? Is there an easier way to empty my bulk bags?
In our new Hemp Grower's Guide to FIBCS, we discuss how FIBCs can help address the various challenges hemp growers face.