The FIBC industry is continually evolving in response to the changing requirements of end users. As the industry evolves, so do the products offered by vendors. At National Bulk Bag, we are continually excited by the new and refined products entering the market. Many of these product innovations offer promising benefits for specific industries and use cases.
However, one of the most surprising and welcome trends is where the innovation is coming from in the industry: overseas suppliers. Over the years National Bulk Bag has cultivated a chain of overseas suppliers by vetting them, visiting their facilities, and continually seeking innovators. These suppliers have enabled us to offer new and exciting products to end users around the country.
Local Distributors, Overseas Suppliers
As the industry has continued to expand, so have the industries and applications that use bulk bags in their everyday operations. The increase in applications and users has led to a corresponding increase in demand for quality overseas suppliers (as overseas suppliers are the dominant players in bag manufacturing – check out this article: https://blog.nationalbulkbag.com/fibc-bulk-bags/5-things-quality-distributors-do-to-vet-their-overseas-suppliers-manufacturers). However, not all US-based distributors properly vet their overseas suppliers often leading to a significant product quality difference from distributor to distributor.
One of the largest indicators of the quality of an individual manufacturer is their facilities. Are the bags your distributor is selling coming from modern facilities? Are they being kept up to date? Are they following ethical and safe practices? Because the distributors and local and suppliers are overseas, it's more important than ever that your distributor vets their suppliers.
Another major indicator of a quality that we've observed and is the subject of this blog is innovation. Quality suppliers are constantly innovating. How are they doing this? What evidence is there of this innovation? Let's explore.
Innovation In the Industry
At National Bulk Bag, we've seen our quality vetted overseas distributors start to drive innovation on their own. No longer are new bag types tailored to specific applications being completely driven by the custom bag demands alone. Innovation in the industry is now being led largely by these overseas suppliers making key advancements to increase the applications where these bags can be effective.
Let's take a look at some examples of specific bags offered by our suppliers:
As Always, Talk to Your Local Distributor
As you read this article, did you know about these various innovations in the industry? If not, it may be a good time to talk to your local distributor. Are they vetting their overseas suppliers for the discussed criteria? Bulk bags are an extremely flexible product that can be used for many applications, however, not all bags are created equally. It's more important than ever to make sure your local distributor is doing their due diligence.
---
Thanks for reading!
It's our mission to make your bag buying experience easy, informative, and enjoyable. We also want to share our knowledge with you, so you can make the best purchasing decision for the company you represent. Our Buyer's Guide to Purchasing Bulk Bags includes critical information ranging from types of bags to important safety information about handling and transportation.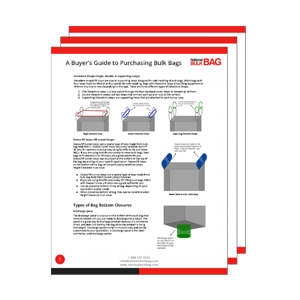 Download the guide by clicking below. By downloading, you'll learn all about:
Types of bags

Coated vs. uncoated

Liners

Bags with baffles

Types of lift loops

5:1 & 6:1 safety

guidelines

Much more!
Click the button below to download our comprehensive buyer's guide.